Got a few little projects to share that I've been working on...
This is a little mailbox from the Target $1 spot that I decorated, using the
February Crop Addict kit
: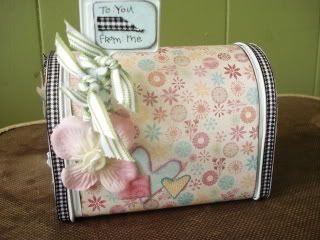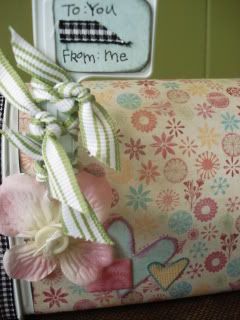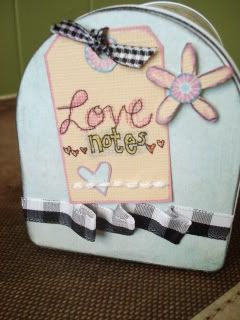 Here's a layout I did for
Scrap Etc.
using the new Valentine's line of papers from My Mind's Eye, plus a little of the lace paper from KI Memories, and an assortment of labels from Daisy D's, Fontwerks, and Heidi Swapp. There's also some rubons and chipboard from American Crafts, Heidi Swapp bling and a flower from Creative Cafe.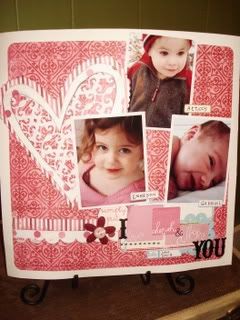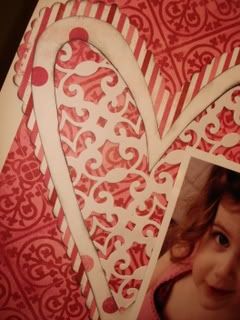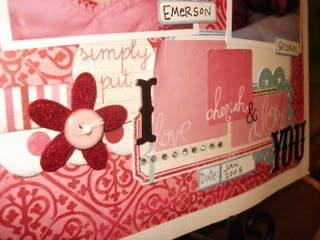 I got this about a month ago from Scrap Etc.'s Creative Cafe` section... it sat on my desk, waiting to be used for something special.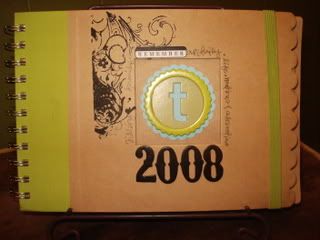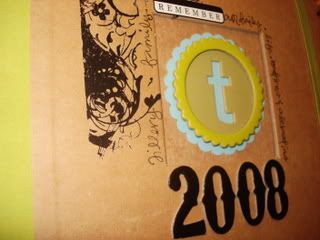 I noticed there were 12 tabs on the side of the album, and inspiration struck- a mini journal/album recording our activities each month.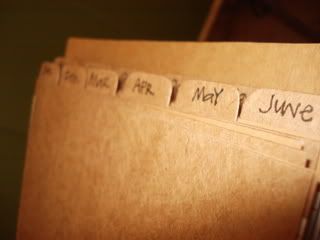 I'm keeping it pretty simple and just trying to record a sentence or two each day; I just want to be able to preserve some of this time when I have three little ones... all the funny things they do, the sweetness they bring into our lives, and the everyday chaos.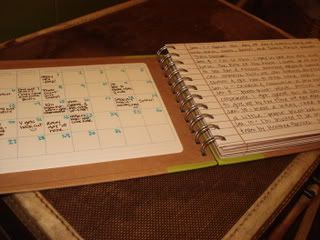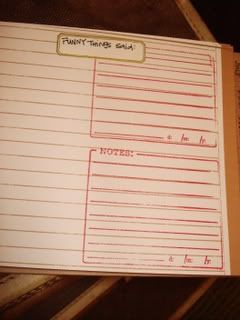 I want to add in a stamped section each month of "What God is Teaching Us" and "Places We Went," but I haven't sat down to do those yet... hopefully tonight!
This is the next project I want to tackle... I made this album at the end of November to record our December and the joy of the season and all that stuff, but alas, I did not. The insides are already decorated with coordinating paper to the cover (Fontwerks), so I just need to add my photos and journaling. Fortunately I've got my blog and my calendar to refer to with all our activities last month, and my photos are organized in folders on my computer into months, so I can just go into that folder to print off everything I need.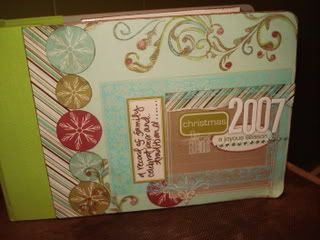 And since today is FRIDAY, make sure to check out
TwelveFridays :)
they are running this special:
"We are going to have a special that runs Feb. 1st and it goes as follows:
If you join and get a friend to join with you we will give you your shipping free! And you can get as many friends to join and that will extend your free shipping. So if you get 6 friends to join you get 6 months of free shipping! Yah! :) And your friend can choose between free shipping or a surprise goodie pack with their kit. The only catch is you have to email us at twelvefridays@gmail.com and tell us who referred you so we will be able to keep track of it all for you. And if you are already a kit club member this works for you too...you just have to get a friend to tell us you referred them after they signed up and you will get your shipping for free. "
Here's a full view of the first kit
Happy Friday everyone! :)