Yesterday I got to get a little "pick-me-up" and have a day to get my hair cut & colored. :) I put my hair into the hands of the marvelous Kari Ann and told her to do something with it. I trust the girl- and I don't trust many with my hair. (Isn't she the cutest?)
She decided to do a PM (Paul Mitchell) Shine treatment on my hair, and did some dark brown with red/violet hints. I LOVE it. The color is so rich and shiny, and when the light hits it, you can see all the marvelous red. Super cute. The bonus is I don't have to go back to get roots touched up or anything because it will eventually fade out in a few months.
Her plans got changed a little bit with what she wanted to do with my hair, but as the artist she is, she still made this mommy feel funky and cute and fresh. I looooove it. It's got a lot of versatility to it, too- I can do it sleek or flipped out or all "big" and punky.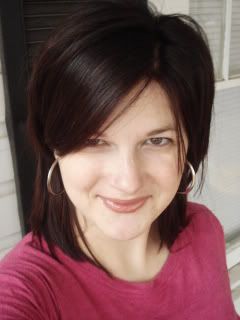 So- if you are in the greater Birmingham area, give Kari Ann a call to do your hair. She styles at the Shine Salon (it's a Paul Mitchell Focus salon) in Trussville. The prices are very reasonable ($35 for a wash/cut/style, I believe; $35 for the shine treatment; other color stuff starts at $85). The number there is
661-3331.